SERVICES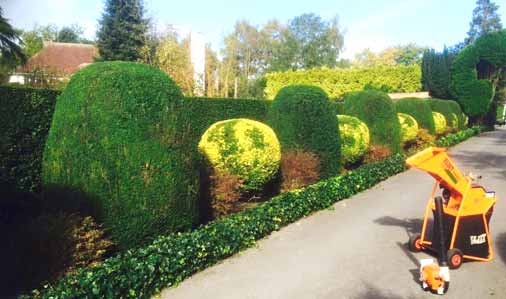 TREE SURGERY
A professional arborist who provides a tree maintenance service such as pruning, planting and aftercare, size management, felling, etc. Also offers advice and guidance.
Please read on for a brief description of each service:
HEDGE CUTTING
Hedges require regular maintenance to remain dense and compact. Formative pruning of young plants helps to develop balance, shape and strong branches. Initial pruning is to be carried out in the winter through to the late spring. The recommended times to renovate old hedges are:
Evergreen hedges - Mid spring

Deciduous hedges - mid winter
General maintenance on established hedges is to be carried out throughout the summer months.
POLLARDING
This is a method of pruning where the upper parts of the Tree/shrub is removed to restrict the overall height. Most pollarding takes place in the late winter depending on the genus. Pollarding may be necessary to reduce to amount of shade cast by a tree or to prevent upper branches obstructing high cables.
BASIC TOPIARY
Topiary is an art of shaping and training evergreen shrubs into a style or shape. With a very striking effect such plants play a feature role in the garden.
COPPICING
A process of cutting down trees allowing the stump to regenerate for a number of years. Suitable for trees and shrubs that tolerate hard pruning. To be carried out late winter to early spring.
Reasons to coppice:
To create a multi stemmed shrub

To generate new stems on a shrub

Encourages larger leaves on certain trees

Encourages smaller leaves on certain trees

Generates woody stems

Rejuvenates and renovates old plants such as Taxus baccata (Yew), Carpinus (Hornbeam) and Fagus (beech)
REDUCING TREE SIZE SAFELY
Crown lifting - Lifting the crown by removing the lower branches. This will allow better access below the tree for mowing etc.

Crown thinning - Removing dead or congested stems on a tree increasing the light and air into the crown to promote new and healthy growth.

Crown reduction - Reducing the overall size of the height or spread of a tree by the selective removal of branches.
TREE FELLING
A process of cutting down individual trees. Every care will be taken to ensure trees are felled in the safest possible way, taking into consideration the location of the tree and its surrounding area. Clients will be kept informed of any potential risks. All felling work will be carried out by a fully insured, qualified professional with professional equipment.